Introducing Popolo Your San Luis Obispo Events Caterer for Every Occasion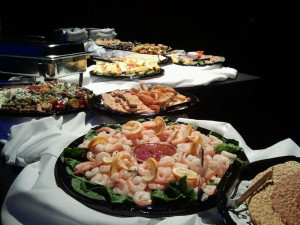 Popolo Catering is a family owned and operated events catering business managed by Leon and Kathleen Castillo. After catering in San Luis Obispo for over 25 years now, Leon and his family have become one of the most popular and well-respected choices for catering services in the area.
They have earned this reputation through a strong commitment to quality, customer satisfaction, and their community. What began as the Popolo Rotisserie Café is now a full service event catering business, specializing in unique fusion cuisine, Mexican, Italian, rotisserie chicken, and Santa Maria Style Barbecue menu items. They are also a winery events caterer, wedding caterer and available for many more events as well.
Providing Event Catering Services with a Personal Touch
Popolo not only focuses on providing fresh, made-from scratch, roasted, baked, and barbecued menu items. They pride themselves in delicious and flavorful fusion and comfort foods do impress, The level of personalized service that is a big contributor to what has kept this family catering in San Luis Obispo for so many years. The Castillo family is especially honored to take part in weddings, anniversaries, birthdays, and other special community events.
Weddings, Catering Services Overview, Event Planning, Bar Service, Formal Catering Request