A Journey of Success!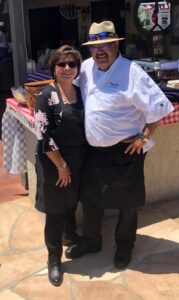 Early Life…
Leon Castillo and his two brothers were raised by his single mother. His mom worked full-time, in addition to going back to school after her husband and the boy's father passed away in the late 1960's. She would leave food with instructions for the boys to start dinner before she arrived home from her long days. This is where Leon originated his love of cooking!
In Leon's early years of high school, his first job was in the restaurant business as a 16-year-old busboy, dishwasher and prep cook for a local family owned business in Santa Maria. Leon remembers really enjoying his job working for the Ontiveros family in their Mexican restaurant, Casa Mañana. Leon gained great work experiences while working in the kitchen. Little did he know then, how he would apply this experience in years to come.
Leon frequently assisted his step-dad while barbecuing either at home for family dinners or they would barbecue and prepare meals for large events to support family and friends as favors, because they enjoyed barbecuing so much. This is how Leon steadily learned and grew his knowledge base and skills of barbecue techniques.
Into Adulthood
In 1986, Leon became an Elk's Lodge #1538 member in Santa Maria. During the first 17 years as a member, Leon focused his volunteer efforts in the food service aspect of the lodge. Leon was a "head-waiter" and supervised a catering crew of volunteers that provided service for large events at the lodge such as weddings, banquets and other community functions. Leon gained experience in serving groups as large as 1000 guests. Leon was a member of the barbecue team as well, barbecuing Santa Maria Style top sirloin and other meats such as the traditional and popular tri-tip. Annually, during the traditional Elk's Rodeo weekend, Leon was responsible for the food concessions, supervising crews, preparing and selling food to the rodeo attendees.
The Start of His Catering Journey
In 2002, Leon started his own company in Santa Maria, by the name of Lion Castle Catering. Leon had the desire to learn how to make a living while enjoying his passions, which was cooking, barbecuing and helping people. Leon continued his 14-year, full-time job at VAFB, while working hard to get his business off the ground. As a self-taught chef, Leon earned his education in business, marketing and culinary arts by making mistakes along the way, and learning from those invaluable lessons. Those experiences were all part of the educational process as a new business owner.
Leon is not afraid to work, and he worked diligently in establishing his business. It was not long before everyone realized that Leon not only had the desire and motivation to succeed, he literally had the gift of character and personality to create trusted relationships with people who needed his food service and event assistance, and were willing to pay for it. It was slow process, but Leon's business began to grow.
Leon was actively involved in many community organizations in Santa Maria from 1990-2006, such as: The Central Coast Western Dance Club, Ontiveros School, Westside Little League, Pioneer Valley High School Boosters, Cheerleading, and Football. Leon offered his barbecue expertise on many occasions by volunteering his time, to raise funds and support the needs of these organizations. This is an example yet again, of Leon's love of cooking and helping people!
Popolo Catering
In 2006, Leon purchased Popolo Rotisserie Café and Catering in San Luis Obispo, CA. Today, renamed by Leon, as Popolo Catering, the company exists and concentrates the business and marketing efforts on catering weddings and events. Leon evolved this business over the years to enhance the original Italian menu, to now include Mexican food and barbecue. Clients' options are endless as they create the menu of their dreams for their special event. Leon truly believes that this is his calling in life. Leon's desire is to continue to offer his love of food and passion for people, through his business, while providing catering services at reasonable prices. Popolo Catering has been respectfully referred to as one of the biggest and best catering companies in Santa Barbara and San Luis Obispo Counties. Leon's hard work and daily efforts continue to pay off – – BIG!
Weddings, Catering Services Overview, Event Planning, Bar Service, Formal Catering Request