Introducing Popolo Catering Your San Luis Obispo Events Caterer for Every Occasion!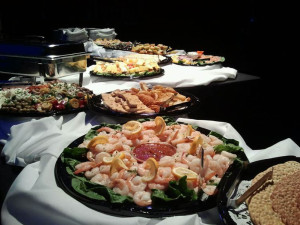 Popolo Catering is a family-owned and operated event catering business managed by Leon and Kathleen Castillo. After catering in San Luis Obispo for over 25 years now, Leon and his family have become one of the most popular and well-respected choices for catering services in San Luis Obispo, Atascadero, Santa Margarita, Templeton, Paso Robles, Shell Beach, Pismo Beach, Grover Beach, Arroyo Grande, Santa Maria, and Nipomo. We have the equipment and staff to provide our catering service for three weddings per weekend. Our trailers are equipped with cooking equipment and refrigeration allowing us to travel and execute events all over the Central Coast.
Leon and Kat have earned this reputation through a strong commitment to quality, customer satisfaction, and their community. What began as the Popolo Rotisserie Café is now a full-service catering business, specializing in unique fusion cuisine. We offer Mexican, Italian, rotisserie chicken, and Santa Maria Style Barbecue menu items. Choose Popolo Catering and feel confident in our ability to provide excellent service and food.
Providing Event Catering Services with a Personal Touch
We pride ourselves in preparing fresh, made-from-scratch, delicious comfort food. The level of personalized service is a big contributor to why we are so loved in San Luis Obispo for so many years. The Castillo family is especially honored to take part in weddings, anniversaries, birthdays, and other special community events.
Weddings, Catering Services Overview, Event Planning, Bar Service, Formal Catering Request