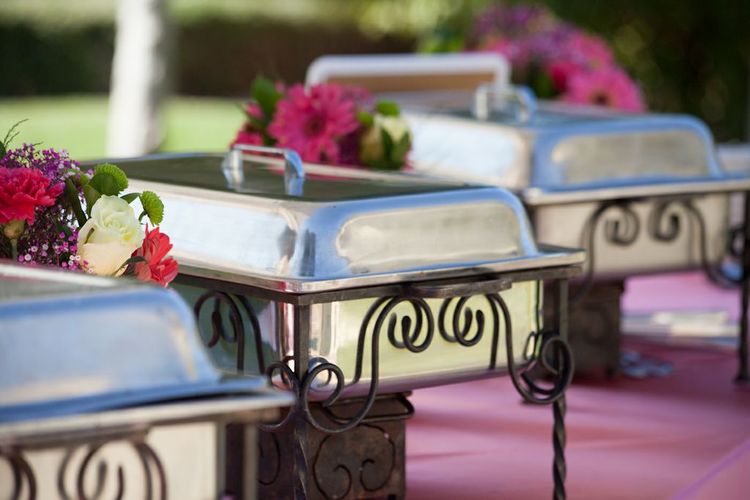 Important clients take a lot of attention to detail in order to impress and appease them.  For meetings that are one on one, treating them to a special meal at a restaurant is fine, but what happens when you have a group?  When you have an important board meeting or a big sales pitch, providing food for a group isn't always the first thing on your mind.  But it should be.
With corporate catering, you can offer your guests a high quality meal without the bother of finding a restaurant with a group room or the logistics that go with planning a restaurant meal.  Our variety of services include not only providing you a delicious meal for your guests, but can also include setting up the meal and taking care of clean up after.  Forget plastic plates and utensils; you can enjoy a real meal, on real dishes, with real linens to really showcase your desire to provide a great meal for your guests.  Our options range from simple buffet to casual and formal sit down meals.  For the more budget conscious businesses, our catered meals can be delivered to you for a nominal fee or picked up free of charge. Get started planning your event now; for casual catering services.  To see a complete list of formal catering services provided, please visit our Service page.
Corporate catering is also a great option for in house parties or company picnics!  For offices that don't have the space for an in house catered party, there are many wineries that make great backdrops to host a company picnic at.   With Popolo Catering, you can host a fancy sit down meal, a casual barbeque or a fun buffet style party.  With an extensive menu and many options to choose from, your event will have great tasting food at little to no effort by you!  With occasional 'special occasion' catered events, your employees come to the realization that their hard work is appreciated.
Many companies have an annual party, whether it's for the holidays, a fundraiser or a meeting of shareholders. In any case, these formal evening parties deserve the attention of a corporate caterer who is experienced in working in a corporate setting. These caterers know that appearance, food quality and great service are all extremely important when it comes to these events, so they are able to provide the best catering services for your affair.
If you're considering having a business event or business meeting catered soon, contact Popolo Catering today to start planning your next event!