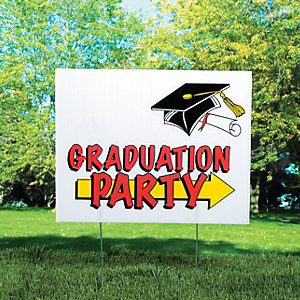 Graduation is an important milestone in one's life and we know that
celebrating the graduate's special day with fun and good times is
important to you. Because it is such an important day, spending time in
the kitchen shouldn't be on your 'to-do' list and Popolo Catering is
here to take care of the big and small details, leaving you free to
enjoy your graduate's accomplishments. While we take care of the food
side of things, here are some tips for the rest of the party to make
this special day the best it can be!
Tips to Planning the Perfect Graduation Party
Keep
it simple! Over planning is easy to do, but it's a graduation party;
it should be filled with fun and laughter, not stress! Send your
invitations, clean your kitchen, living room and bathrooms (close the
doors to all other rooms) hire a cater to take care of the food options,
and enjoy your day!
Graduation Decorations!
Your decorations don't
need to be elaborate or fancy. Streamers and banners in the school
colors are good choices, as are M&M's in cut glass bowls as center
pieces (again, in the school colors) If their school has a cool mascot
(such as a bear or tiger), miniature stuffed versions of it can not only
be used as a decoration, but can also turn into party favors at the end
of the night!
Graduation Favors!
If you plan on giving out favors
to your guests, keep these simple too. There are many cute options
that are not only affordable, but simple too. Graduation bubbles are
always fun and with a printer, you could create your own personalized
labels to make them even more special! You could create customized
Hershey bars, where the wrappers say Congratulations on the front, and
the back holds fun 'nutrition facts'. If you have access to a decent
printer, this is even something you can create yourself!
The
most important aspect of any graduation party is that it honors the
graduates hard work and achievements. To do this, it needs to be stress
free and that starts by hiring in outside help to take the load off.
We want to honor your graduate with you and be a part of your stress
free party! Whether you are planning a small intimate gathering or a
large graduation party blowout, our menu and services can accommodate
you. We can even offer a personalized professional cake to make their
day end on an extra sweet note!
The first 10 parties to book a catering order will receive FREE delivery ($50 value!)