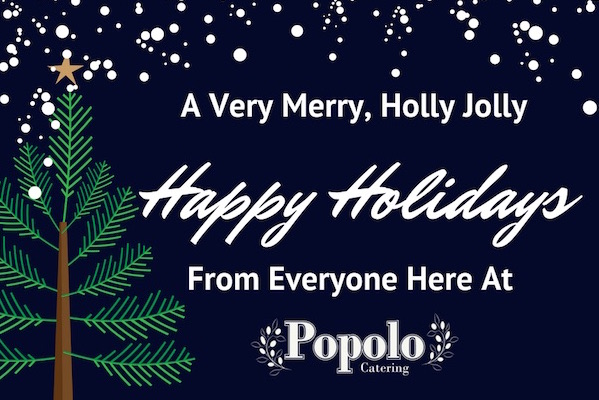 –The holiday season is always a busy time and one of the reasons is that it's also the most popular time of year for wedding proposals. "In fact," said Leon Castillo, co-owner of Popolo Catering, "Most catering businesses have already booked close to half of their weddings for the upcoming year by now."
What better way to celebrate the holidays, an engagement party, or both, than with a catered dinner? This holiday season, the San Luis Obispo caterer is offering three dinner choices:
Aged Prime Rib Barbecued over Red Oak, served with Au Jus and Horseradish, honey glazed carrots, roasted garlic mashed potatoes with caramelized onions and salad of butter lettuce topped with pear, gorgonzola, candied walnuts, and champagne vinaigrette — $32 per person
Crown Roast Pork Loin stuffed with dry fruit compote and finished with a rum butter glaze. The meal includes a steamed medley of broccoli, carrots, and cauliflower with confetti wild rice pilaf. The salad is of marinated golden beets, toasted pumpkin seeds, and feta cheese — $28 per person
Grilled Salmon served with fresh steamed asparagus, orzo pilaf, and a butter lettuce salad topped with Granny Smith apples, candied walnuts, and buttermilk dressing — $26 per person
The minimum order is for 15 people, so there is plenty of food for the engaged couple and their friends and family, or for any other holiday gathering.
"October through February is the busiest time for booking weddings," said Castillo, "with January and February being the months when the most weddings are booked." All of the celebrations from Thanksgiving to Valentine's Day seem to bring out the best romantic feelings.
According to WeddingWire online, the most popular days for marriage proposals are, in order of popularity:
Christmas Day
Valentines Day
Christmas Eve
New Year's Day
New Year's Eve
December 23
Two Saturdays before Christmas Eve
The newly engaged couple begins planning their wedding soon after the proposal, and bookings for catering, wedding venues and all the other amenities for the big day start booking up very quickly.
"We are always excited to be part of anyone's special day," said Castillo "and we look forward to hearing about all of the accepted marriage proposals that will happen on New Year's Eve." Popolo Catering is also catering the "Roaring 20s New Year's Eve Bash" at the Courtyard Marriot in San Luis Obispo.
Popolo Catering is a family-owned and operated catering business managed by Leon and Kathleen Castillo. For over 25 years, the Popolo business is one of the most popular catering services on the Central Coast. They pride themselves in delicious and flavorful fusion and comfort foods and a level of personalized service that is a big contributor to the company's popularity. The Castillo family is especially honored to take part in weddings, anniversaries, birthdays, and other special community events.
Popolo Catering has won the prestigious "People's Choice" Award from WeddingWire for 2019 as well as for the five consecutive preceding years.
To order a catered holiday meal, call Popolo's Catering at (805) 543-9543 or email [email protected]
To reserve tickets for the New Year's Eve Bash on December 31 at the Courtyard Marriot, call (805) 543-9543.
Visit the Popolo Catering website to learn more about this San Luis Obispo company's catering and menu options.
Popolo Catering
1605 Calle Joaquin
San Luis Obispo, CA 93405
(805) 543-9543
Visit the number one Paso Robles news source. Get a free email everyday filled with local news.