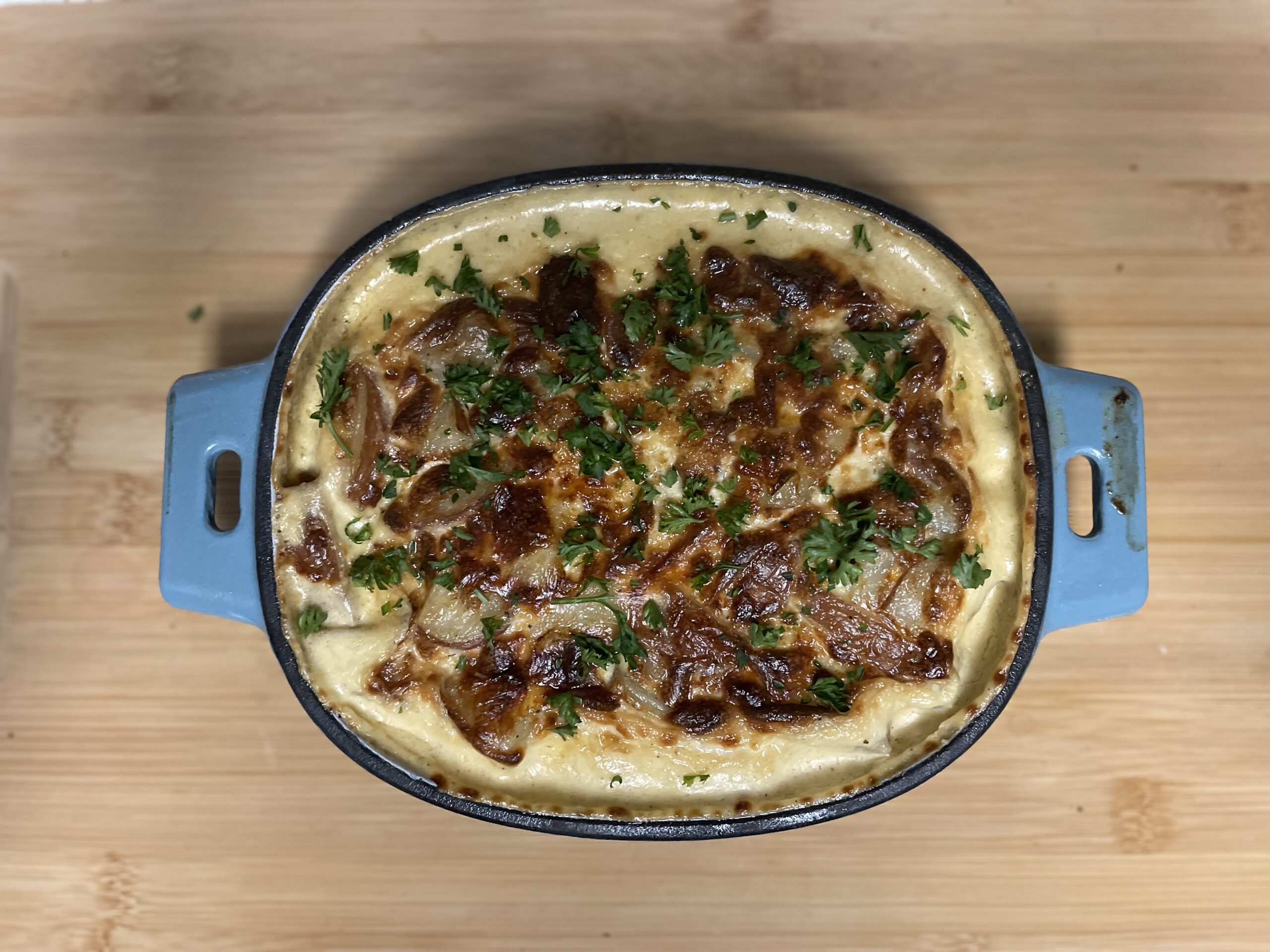 Welcome to Popolo Catering's recipe blog series, where we will unveil some of our most cherished and requested dishes. We are thrilled to begin this new idea of sharing Popolo Recipes with all of you! Over the years, we have received countless inquiries about our recipes, with requests like "how do you do this?" or "can I have the recipe please?" I got the A-OK from, my dad and Popolo owner, Leon, to share these treasured recipes with all of you.   This week, I invite you to indulge your taste buds with our beloved Potatoes Au Gratin recipe.  Combining delightful flavors and a surprisingly simple preparation, this dish will leave you craving more. Prepare to savor the creamy richness, the sharp cheddar cheese, the smoky allure of Gouda, saltiness of the parmesan and the perfectly cooked red potatoes. Brace yourself for a decadent delight that will undoubtedly have you coming back for seconds! Join the many people who have fallen in love with this dish.
A Decadent Delight:
Popolo Catering proudly presents our Potatoes Au Gratin, a dish that's all about indulgence. I believe that treating yourself every now and again is an essential part of life's joys. While this recipe may not fall into the category of health food, it undoubtedly deserves its place on the table for special occasions. Our take on Potatoes Au Gratin are executed with catering in mind, and the mass production of catered potatoes in San Luis Obispo brings. So that means an easier time in the kitchen for you. The creamy texture, the savory notes reminiscent of a smoky bacon flavor thanks to the smoked Gouda, and the harmonious blend of cheeses create an unforgettable flavor that will make any meal memorable.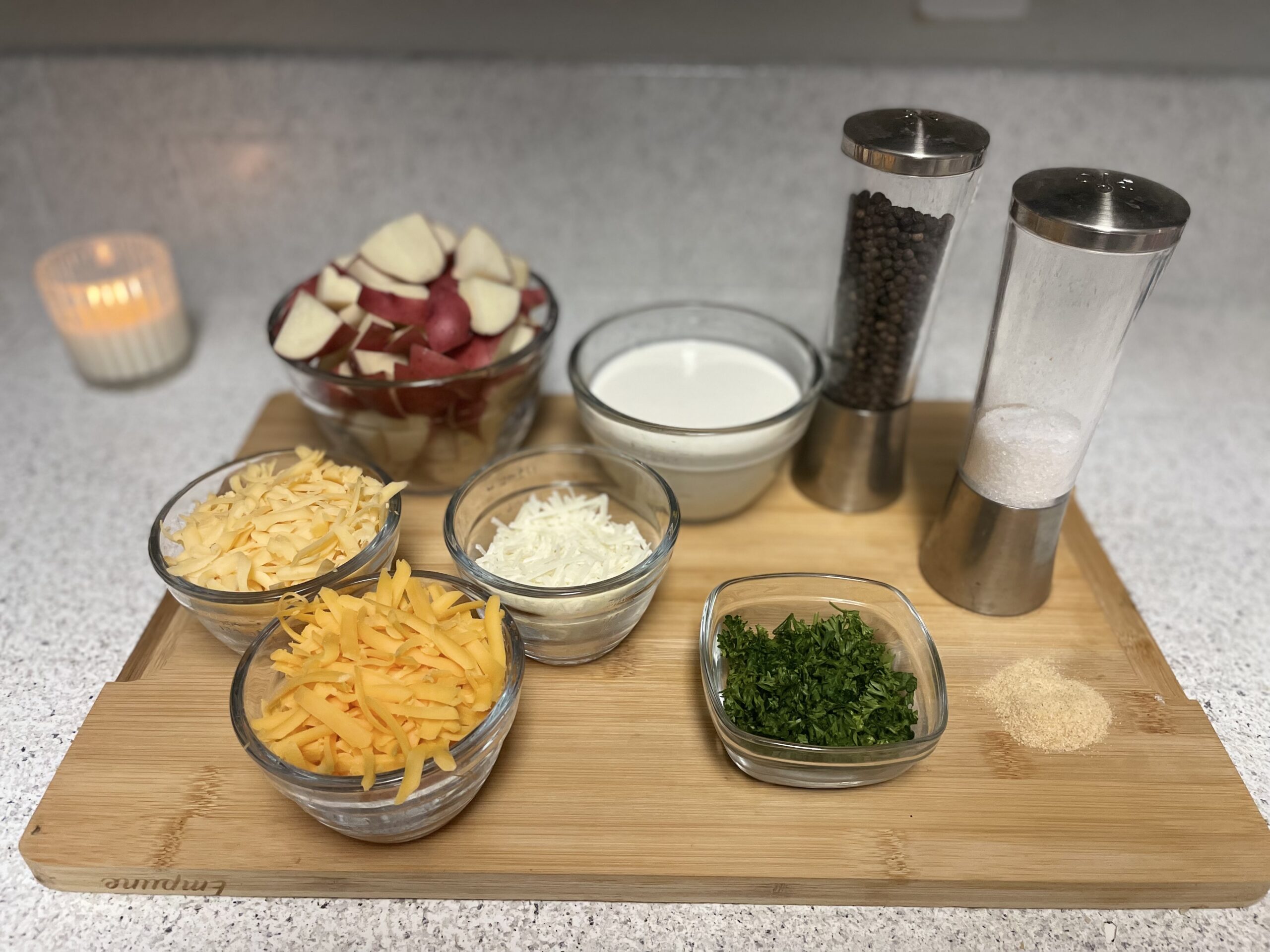 Sharing the Recipe:
To recreate the magic of Popolo Catering's Potatoes Au Gratin, gather these simple ingredients:
– 2 cups cooked red potatoes, cut in chunks
– 1 cup heavy cream
– 1 cup shredded cheddar cheese
– 1 cup shredded smoked Gouda cheese
-1/2 cup shredded Parmesan Cheese
– Salt, pepper, and other preferred seasonings to taste
-chopped parsley for garnish
Instructions:
1. Preheat your oven to 350°F (190°C).
2. Potatoes should be precooked at this point. Place the COOKED potatoes in a large bowl. 
3. Add in all the cheeses, heavy cream and seasonings. Mix well. 
4.Pour out the mixture into baking dish, careful to not to overfill the dish. 
5. Bake the dish in the preheated oven for approximately 25-30 minutes, or until the cheese turns golden and begins to bubble.
6.Let the potatoes cool to set up for at least 15 minutes 
7.Sprinkle with chopped fresh parsley to garnish and for a fresh herbaceous flavor.
*this recipe has been modified for smaller batch home cooking
**for my seasonings I used 1tsp each of salt, pepper and garlic powder, can be adjusted to your taste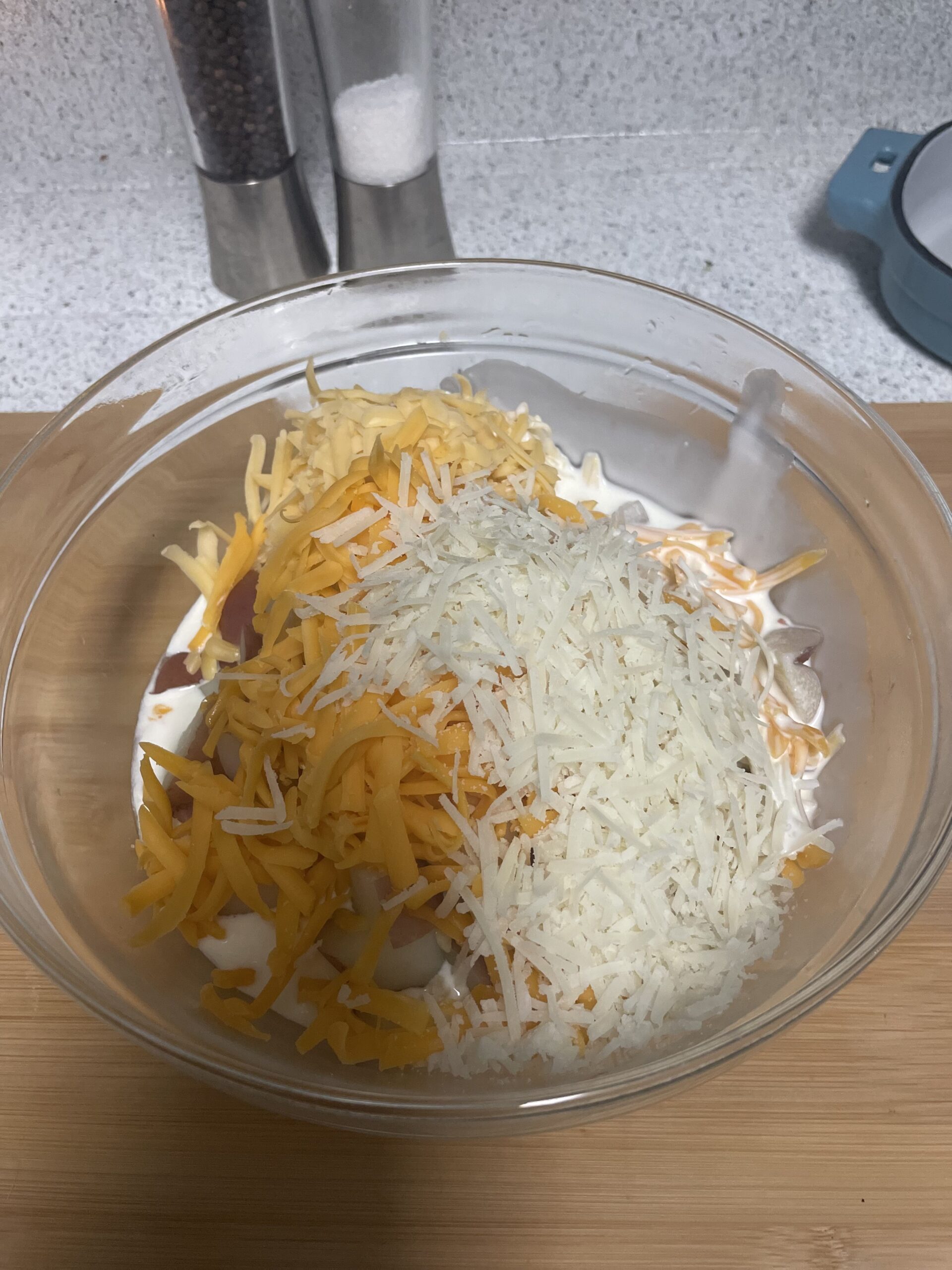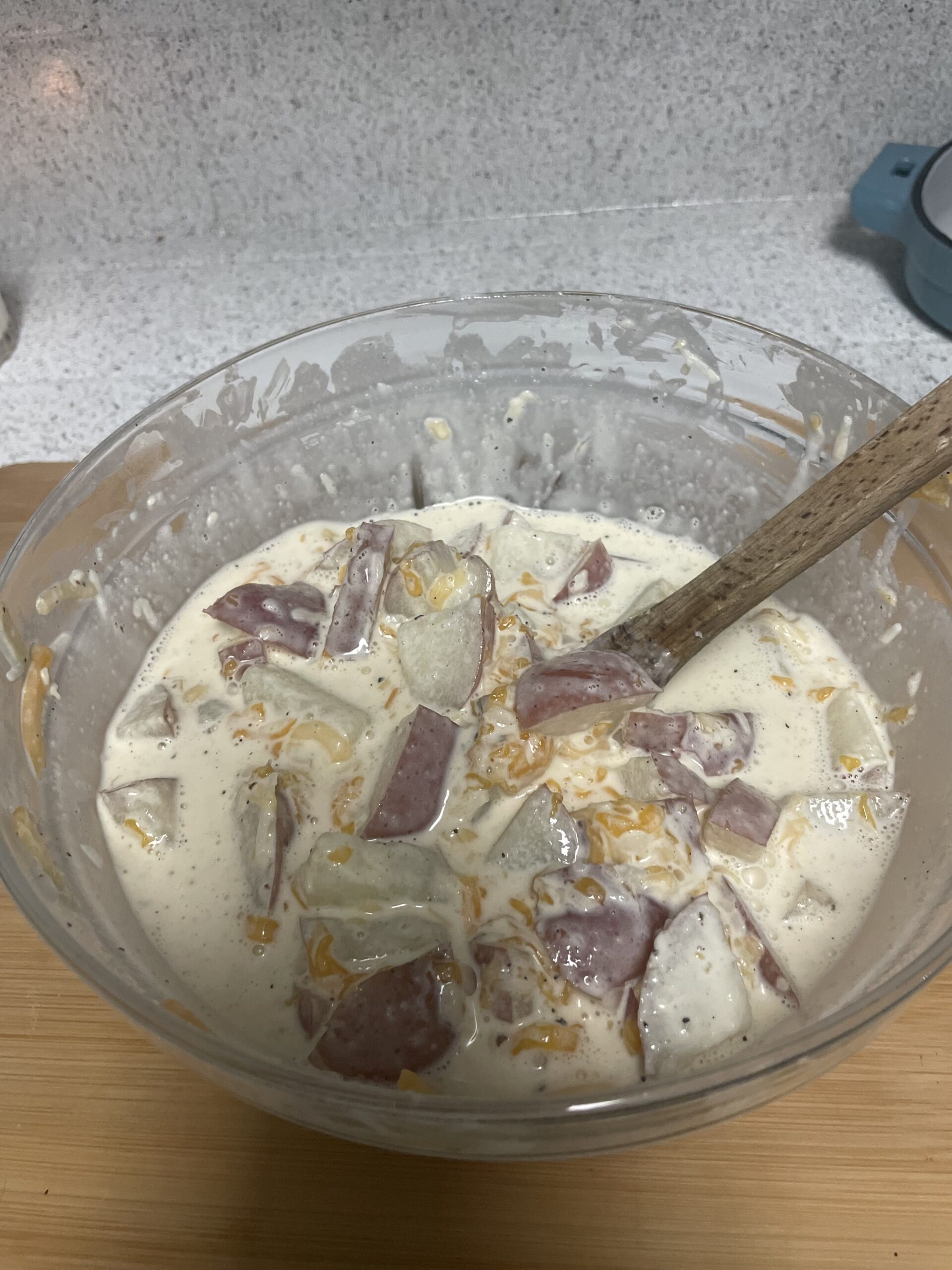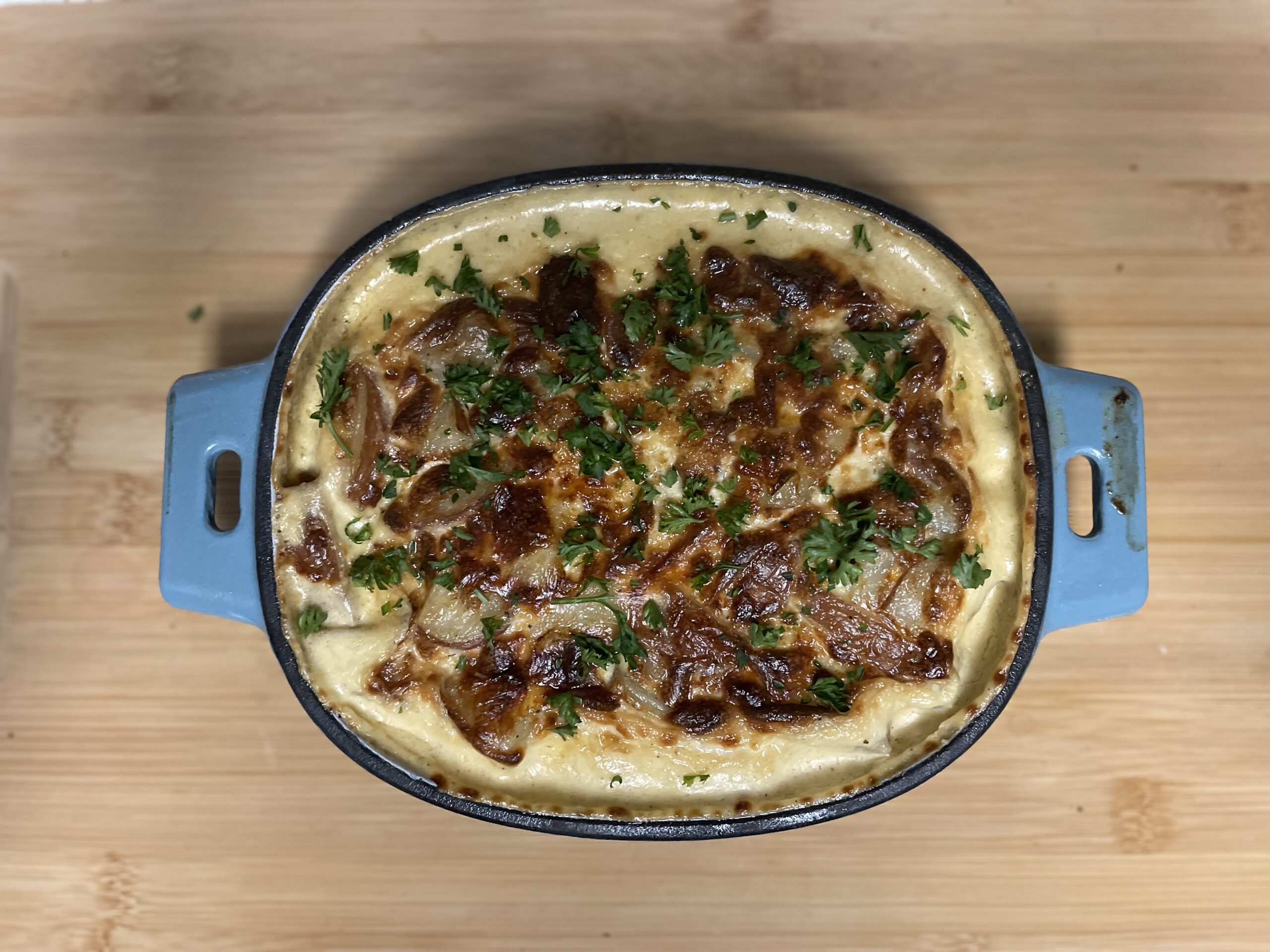 Try this amazing recipe at home for yourself and experience the decadent flavors of Popolo Catering's Potatoes Au Gratin. Impress your family and friends with this simple yet delicious dish that will have them begging for seconds. Whether it's a cozy dinner or a special gathering, this recipe is sure to elevate any occasion. Get ready to delight in the creamy textures, the richness of the cheeses, and the unforgettable taste of perfectly cooked red potatoes. Don't miss out on this culinary gem—bring the magic of Popolo Catering to your very own kitchen. 
Here to Help
Popolo Catering is here to make your next event an unforgettable experience. So if cooking at home or for a large crowd isn't your thing, we understand. Please let us help. Whether you're hosting an intimate gathering, a grand celebration, or a dream wedding in beautiful San Luis Obispo County, our team is dedicated to crafting exceptional food that will leave your guests raving. Treat yourself and your loved ones to the tantalizing flavors of our Potatoes Au Gratin and discover the extraordinary culinary artistry of Popolo Catering. Don't wait—Call us today and indulge in an unforgettable feast.
Thanks for reading,
Marissa Dominguez
Popolo Catering Coordinator, Blog  and Social Media
**Please check  out Popolo's other Blog Posts and leave us a comment on them**