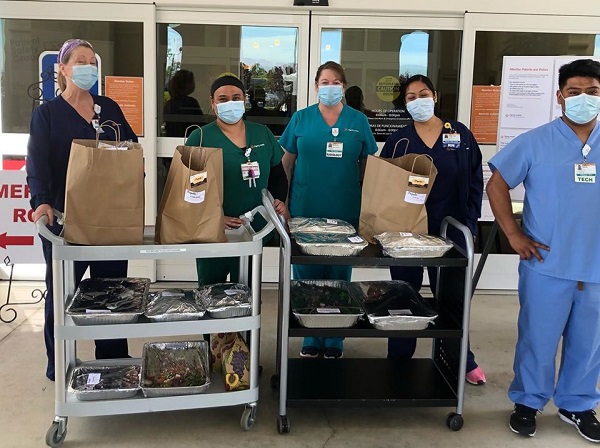 -The popular San Luis Obispo Popolo Catering has taken all of the necessary steps to ensure safe food service. The catering company has been providing curbside service and meal delivery in response to COVID-19 dining restrictions since March of this year.
"Our commitment to our customers means double-checking all of our food service processes and making sure all of our procedures, kitchen and staff is up to the highest standards," said co-owner Kat Castillo. "Qualifying for ServSafe certifications mean we have been able to take our entire staff, facility and food preparation and service standards to an even higher level."
Kitchen staff, food preparation, and all other employees follow the safety and sanitation protocols that have been established by the State of California and the County of San Luis Obispo. In addition, the catering company has achieved ServSafe® certifications for all staff members.
ServeSafe is the food and beverage safety training and certification program that is administered by the United States National Restaurant Association. The program is accredited by the American National Standards Institute (ANSI) and the Conference for Food Protection (CFP).
Both the State of California and the County of San Luis Obispo require Food Safety Management and Food Handler certifications. The ServSafe certifications meet the highest standards in the industry.
Cleanliness and sanitation procedures at Popolo Catering address all of safety and sanitation protocols and recommendations established by the State of California and the County of San Luis Obispo, including:
Clean and sanitized work surfaces
Gloves and masks worn by all staff
Maintaining a safe distance between coworkers while working
Clean and sanitized restrooms, break rooms and any surface that has been touched
Taking and recording staff temperatures
Requiring any employee with any signs of illness, even the common cold, to stay home
Touchless payment
The award winning Popolo Catering has been serving the Central Coast for over 25 years. Their "Fusion Cuisine Concept," means that diners can order high quality Santa Maria Style Barbecue, Mexican or Italian food, and now Sushi, all made from the freshest ingredients.
Popolo Catering is a family owned and operated events catering business managed by Leon and Kathleen Castillo and son, Chef Kenny Castillo. What began as the Popolo Rotisserie Café is now a full service event catering business, specializing in unique fusion cuisine, Mexican, Italian, rotisserie chicken, and Santa Maria Style Barbecue menu items. The San Luis Obispo catering business is one of the most popular and respected choices for catering, and now curbside pickup and delivery, on the California Central Coast.
Curbside pickup is available or delivery from GrubHub, DoorDash, FoodJet and ExCater.
Popolo Catering
1605 Calle Joaquin
San Luis Obispo, CA 93405
(805) 543-9543