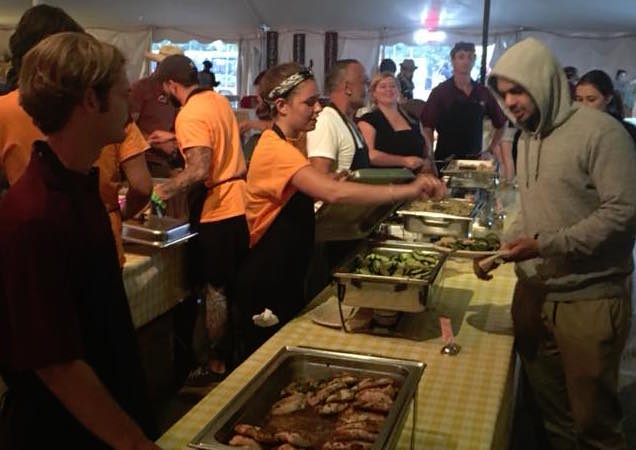 – Popolo Catering from San Luis Obispo, California has just wrapped up over 30 days of onsite catering for the Lightning in a Bottle (LIB) Festival. More than 27,000 meals were prepared for staff and guests. " The LIB staff was so warm and inviting and so appreciative of the food and beverages we prepared for them," said Kathleen Castillo, who co-owns Popolo Catering with her husband, Leon.
The Popolo Catering staff arrived the first week in May to get set up and started prepping and cooking meals on the second day. The festival was held at San Antonio Lake in Bradley, California, an area known for hot spring and summer weather. The Popolo staff prepared, cooked and served three meals a day, even on the days when the temperatures soared into triple digits. The San Luis Obispo catering company also continued to cater weddings and other events during the festival.
Approximately 30,000 visitors attended this year's LIB festival and the energy expended by the LIB crew to keep things running smoothly required a lot of extra nutrition. Along with feeding three meals a day, Popolo Catering operated a commissary to provide the crew with extra snacks and beverages throughout their shifts.
In preparation for the last day on June 7, Popolo Catering was proud to donate the remaining supply of food to the Prado Day Center Homeless Shelter in San Luis Obispo. "?This non-profit agency serves our beautiful community and is near and dear to our hearts," said Kathleen Castillo.
Lightning in a Bottle, held over the Memorial Day weekend, is an eclectic mix of music, art, and culture featuring live music, performance art, guest speakers, workshops and cultural activities, camping and other activities. The family-friendly festival, which officially started in 2004, was staged at various venues in California. San Antonio Lake in Bradley, California has been the location since 2015. Tickets for Lightening in a Bottle 2019 are now on sale.
About Popolo Catering
Popolo Catering of San Luis Obispo is a family owned and operated events catering business managed by Leon and Kathleen Castillo. They have earned a reputation for excellence in the community. They provide catering for winery events, weddings, parties and a number of other events. Popolo focuses on providing fresh, made-from-scratch, roasted, baked, and barbecued menu items that are a delicious and flavorful fusion and comfort foods, including Italian and Mexican food in addition to barbecue selections. The menu options are endless.
Follow Popolo Caterings adventures at LIB on Facebook.
Popolo Catering
1605 Calle Joaquin
San Luis Obispo, CA 93405
(805) 543-9543
Press release is by San Luis Obispo SEO company Access Publishing, 806 9th Street, #2D, Paso Robles, CA 93446, (805) 226-9890.