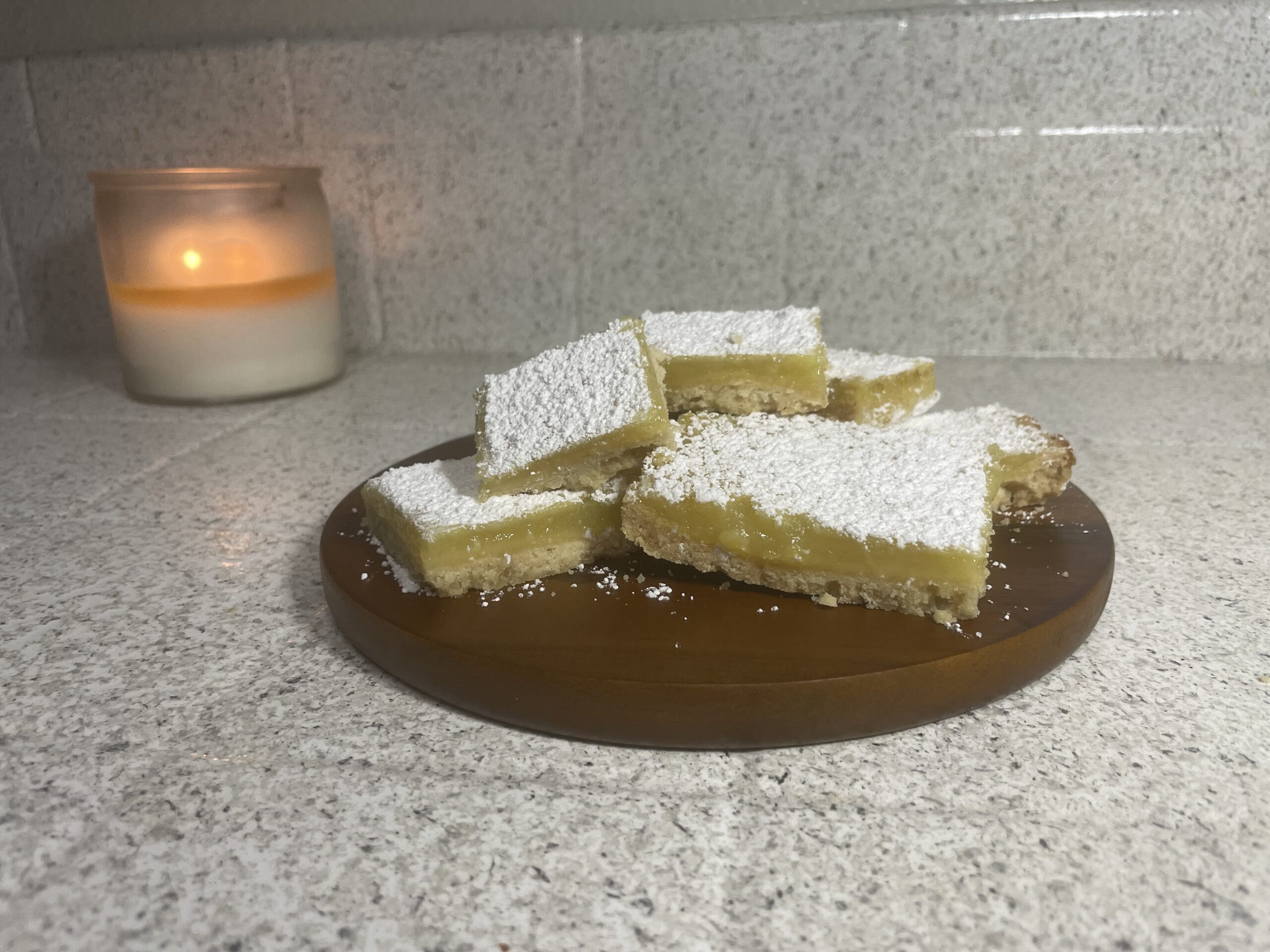 On California's Central Coast, where Popolo Catering is located, lemons enjoy perpetual seasons. The trees, renowned for being "ever bearing," always seem to have some yellow fruit on them. Mr. and Mrs. Popolo nurture a lemon tree in their backyard, often graced with many fruits. During my visits, I frequently find myself tasked with fruit picking or bagging. But what can one do with an excess of lemons? While sharing with friends and family is an option, an equally enticing possibility is transforming them into delectable Lemon Bars, a cherished Popolo Recipe that I love. Passed down alongside the acquisition of the Popolo business, this recipe is a classic Popolo dessert. I was repeatedly entrusted with making these in the beginning stages of Popolo. The dessert platters once boasted a trio: 7-layer bars, cookies, and these mouthwatering lemon bars. So please enjoy this instalment of Sharing Popolo Recipes: Lemon Bars.
Crafting the Shortbread Crust
For those uninitiated in the art of constructing a shortbread crust, prepare for a delightful revelation. The process proves remarkably simple, devoid of the need for chilling or rolling out like some other crust varieties. You merely need to combine diced and cold butter with dry ingredients. "But Marissa," you may ask, "how does one incorporate butter?" Engage your fingertips in a playful dance, squishing and blending the ingredients until a crumbly, sandy texture emerges. Picture channeling your inner toddler, reveling in the tactile sensation, much like playing with a sensory bin. Admittedly, a fork is an alternative, but this approach promises more amusement.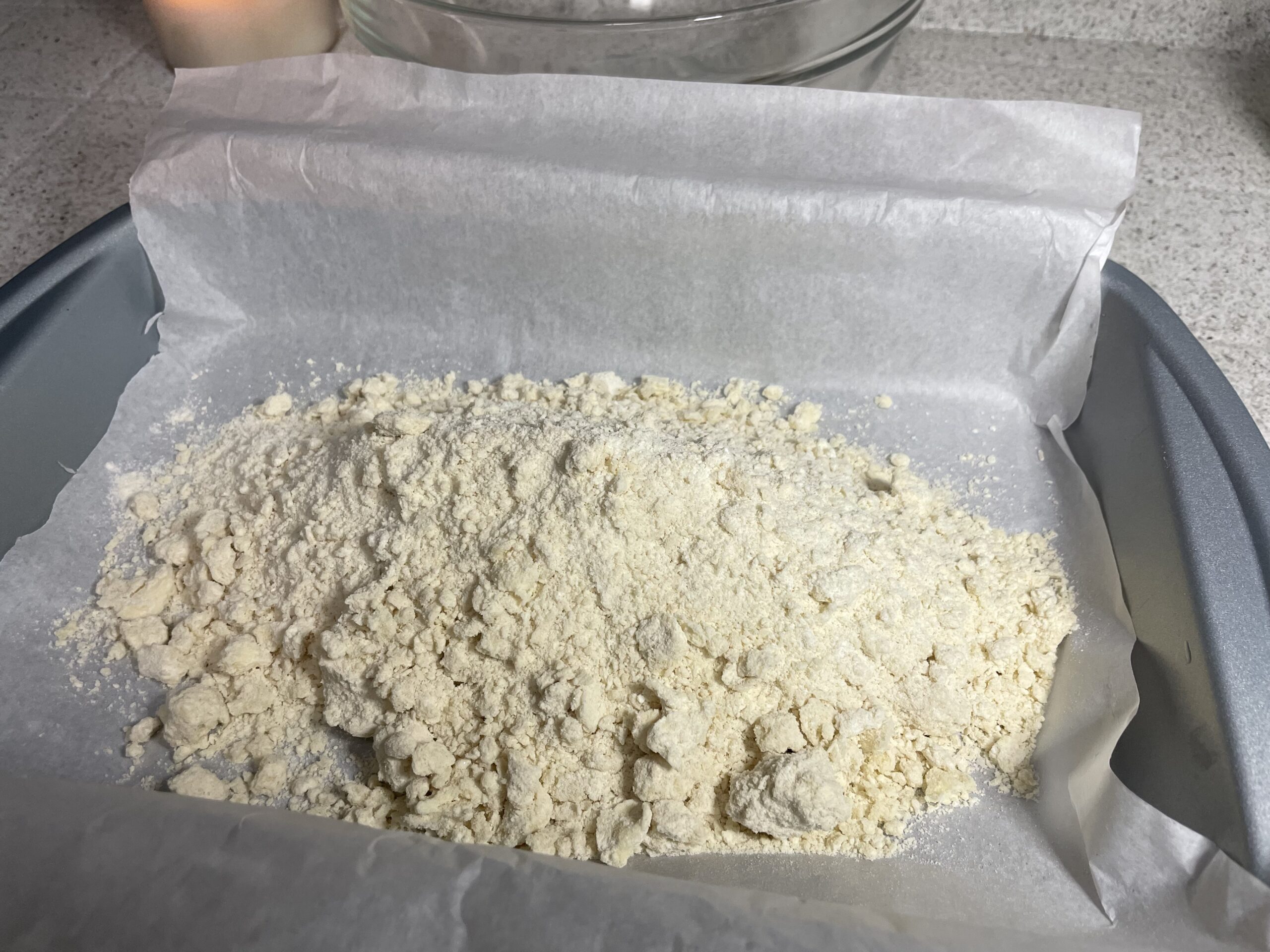 Here's How
Ingredients
Crust:
2 Cups Flour 
1 tsp Salt 
1/2 cup Granulated Sugar 
1 Stick Butter (diced and cold) 
Filling:
1 Cup Lemon Juice ( fresh squeezed best, but bottled is fine)
1 Tablespoon Lemon Zest (if using bottled juice you can leave this out)
1 Cup Granulated Sugar 
1/4 cup flour
4 Eggs 
Finishing Touches:
1/2 cup Powdered sugar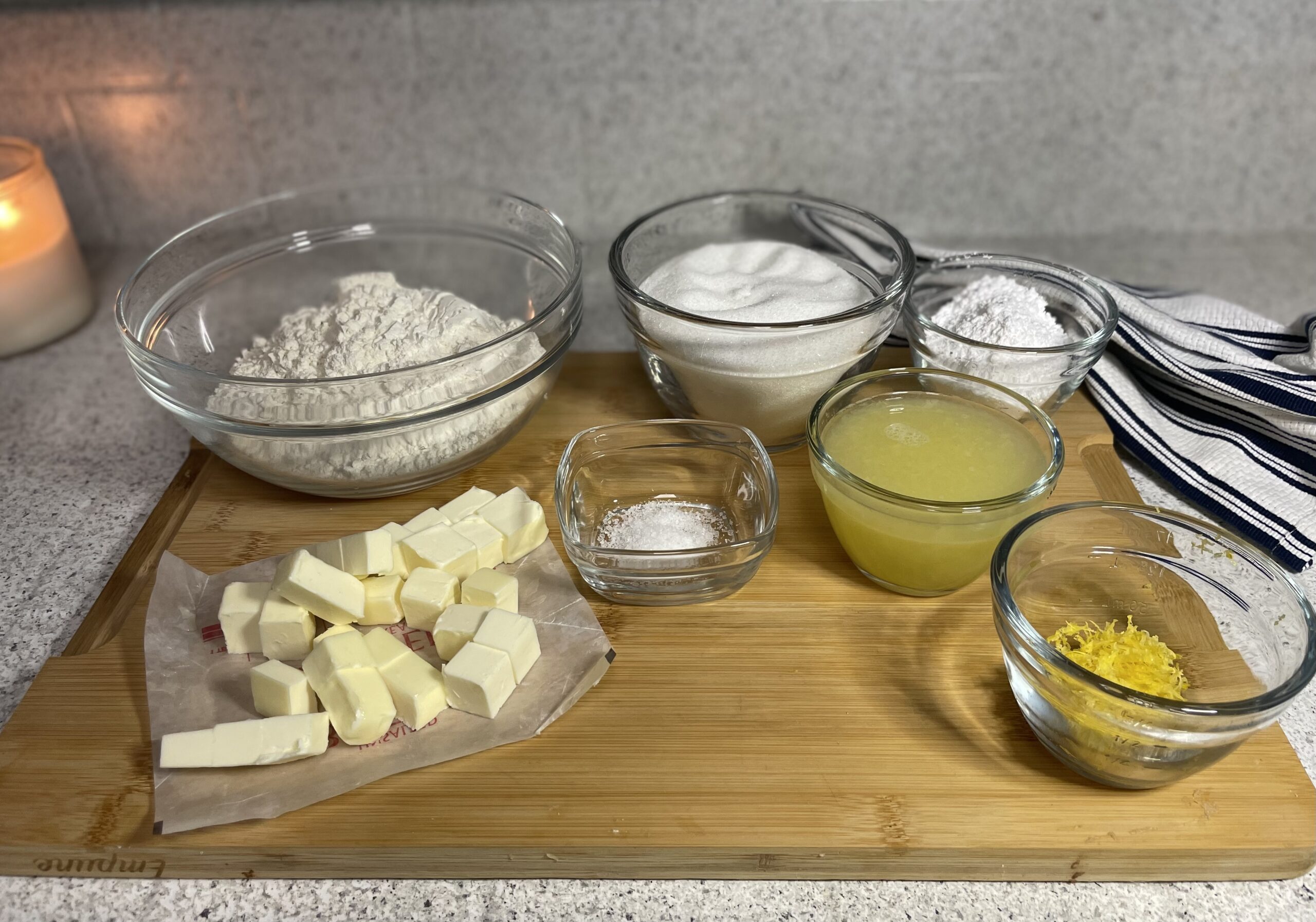 Instructions 
Preheat the oven to 350°F and prepare your 13×9 pan with nonstick spray. Consider adding parchment paper or foil overhang for effortless removal and cleanup.
Crust
Whisk the flour, powdered sugar, and salt together.

Retrieve the pre-diced butter from the fridge; maintain its refrigeration for as long as possible.

Combine butter with dry ingredients using your preferred method, whether hands, a pastry blender, or a fork. Aim for a texture resembling coarse, damp sand.

Press the sandy mixture evenly into the pan's bottom, utilizing the back of a flat-bottomed cup, such as a measuring cup, to firmly press it down or fingertips are fine too.

Bake the crust for 15-20 minutes until it is a golden-brown hue. Remove it from the oven and allow it to cool slightly.
Filling
While the crust cools, combine all filling ingredients in a bowl and whisk until sugar dissolves completely.

Pour the filling mixture atop the warm, though not scorching, crust. Bake for an additional 10-15 minutes until the top sets. Minor cracks might emerge, but fret not, as a dusting of powdered sugar will soon veil them.
Finishing Touches
Dust on the 1/2 cup of powdered sugar over the entire top

Cut to your desired size, serve, and savor the delight.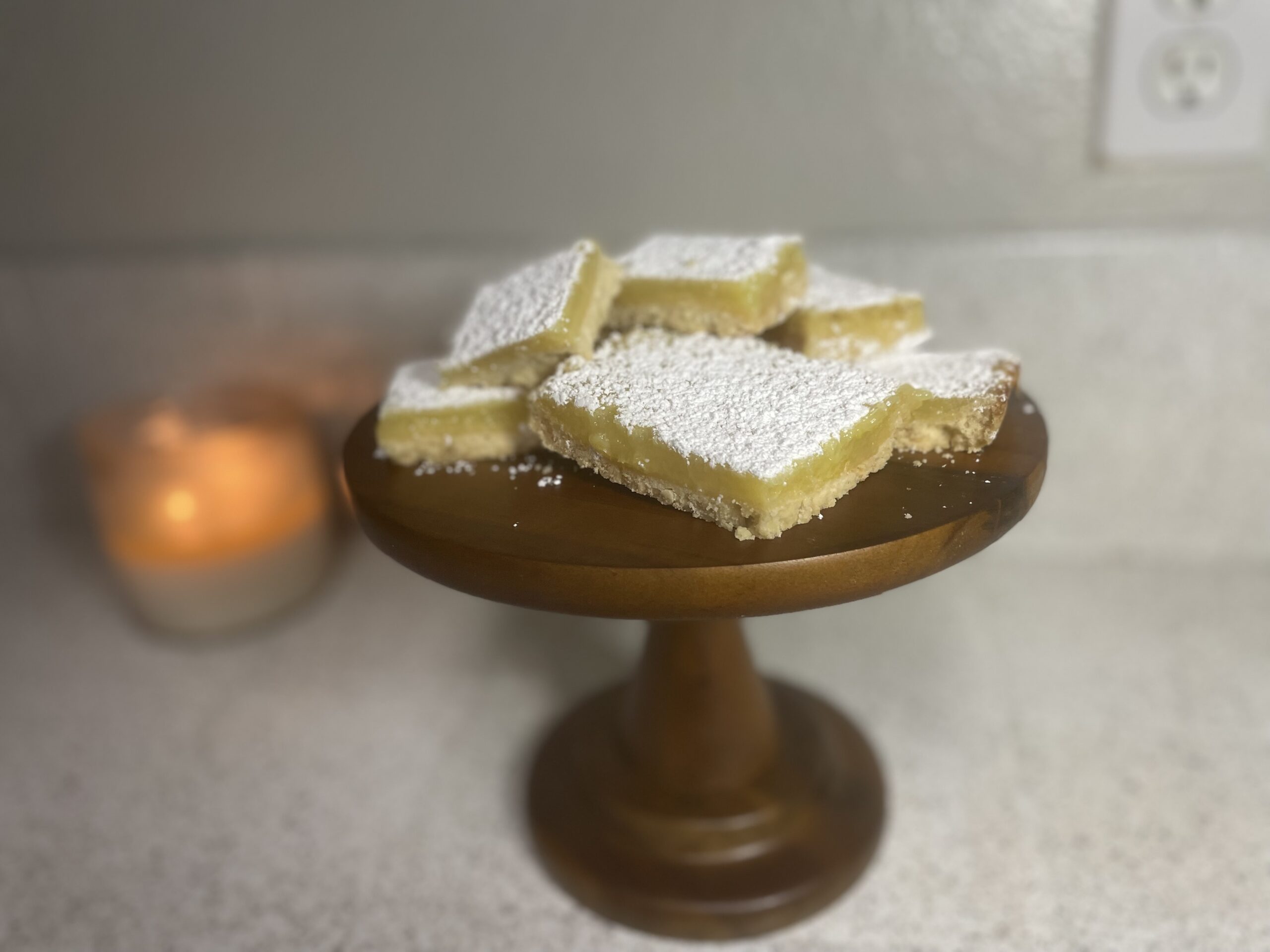 Personalize Your Creation
Once you've mastered the basic recipe, the world becomes your culinary canvas. Experiment with Lime Juice, Orange Juice, Grapefruit Juice—any citrus could yield exciting combinations. So long as you maintain the specified juice quantity, the juice type remains a flexible variable. 
Freshly Squeezed vs. Bottled Lemon Juice 
I hold a deep affection for the vivid flavor and zesty notes of freshly squeezed lemon juice. Moreover, if you happen to have an overflow of lemons at hand, it only makes sense to harness their potential. Opting to include the lemon zest, a bright burst of flavor, further solidifies my preference for using fresh lemons. However, not everyone shares my sentiments; some gravitate towards shortcuts. Reminiscent of one of my beloved cooking shows, "Semi Homemade with Sandra Lee," shortcuts often prevailed. Rejoice, for bottled lemon juice stands as an entirely acceptable shortcut within this recipe. Sometimes, selecting the battles you engage in is crucial. If this is a battle you would rather bypass, do enlist the bottled option. It streamlines the process, especially considering it might already reside in your fridge, ready to facilitate the recipe without necessitating a trip to the store.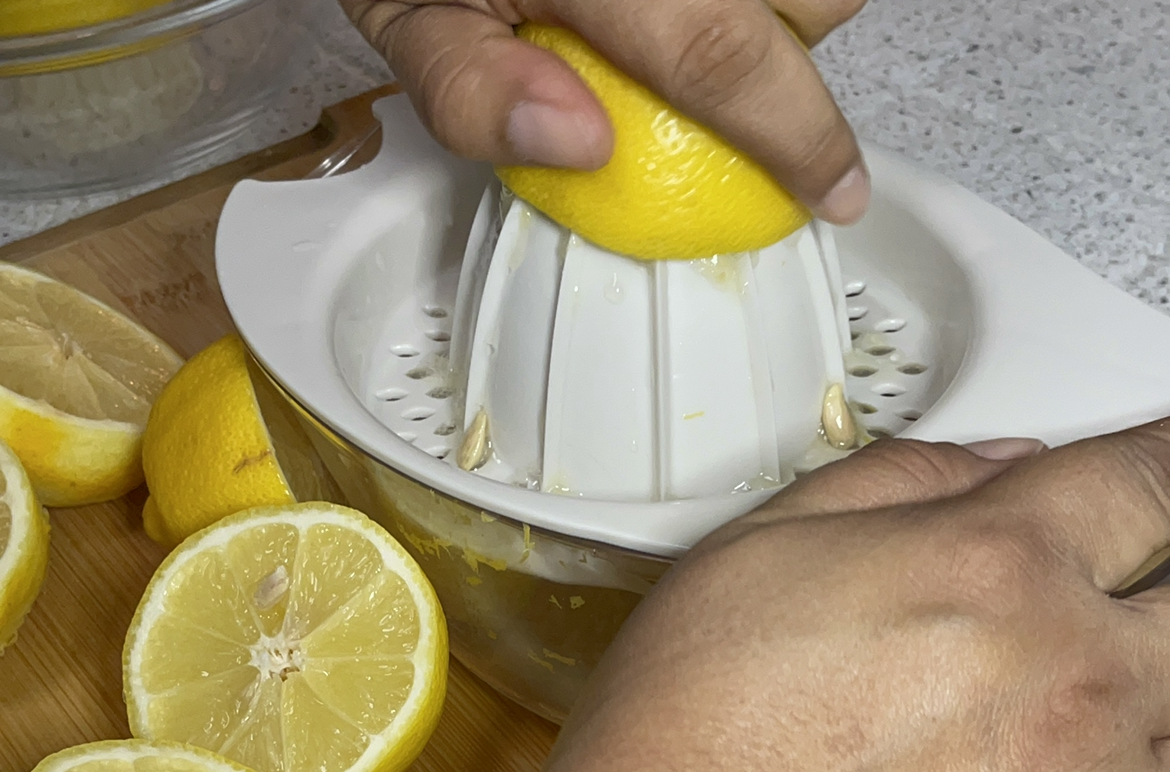 We are Here to Help
Our culinary journey through Popolo's Kitchen continues with these blogs. I hope you are enjoying these recipes.  These lemon bars stand as an age-old favorite. I acknowledge, not everyone boasts baking prowess, and that is perfectly fine. Fortunately, Popolo is at your service, ready to cater to your dessert needs. Consider ordering a dessert platter for your upcoming event, or even indulge in a guilty pleasure by acquiring one for your private enjoyment at home 😜. Allow Popolo Catering to assist you. 

Like reading these blogs? Follow us on Facebook and Instagram to be notified whenever a new blog is posted.
If you love our Popolo Recipe's and want to read more, please read to find out how we make our delicious Seven Layer Bars. We love your feed back so please feel free to leave us a comment on it. Tell us if you have tried the recipe or even if you are just excited at the thought of trying!
Written By:
Marissa Dominguez
Popolo Blogs and Social Media Coordinator