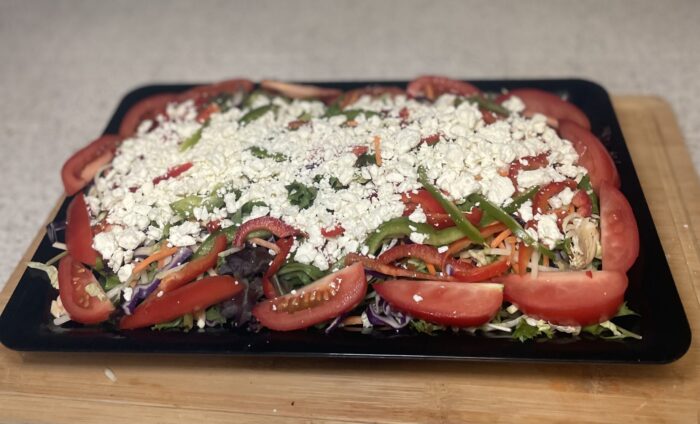 Get ready for another delectable recipe from Popolo Catering! This time, I'm thrilled to present another Popolo classic. While pondering which recipe to feature, I turned to my mom, Kathleen, who happens to be the Office Manager at Popolo's, and asked her about her favorite Popolo side dish. The resounding answer was our Tossed Baby Green Salad, complete with the delectable Rosemary Balsamic Vinaigrette. Luckily, I've already shared the recipe for this fantastic dressing, so now I have the pleasure of presenting the complete dish to you. As a bonus, I get to indulge in this delightful meal and capture pictures to create a video – lunchtime win! 
Effortless Preparation
One common theme in all the recipes I've shared so far is how remarkably easy they are to prepare. Cooking can seem daunting at times, but with these recipes, we aim to combine cooking from scratch elements with convenient shortcuts to simplify when you entertain. Take, for example, this Tossed Baby Green Salad, you can use pre-washed mixed baby greens, pre-chopped coleslaw mix, and pre-crumbled feta cheese. This means it's more about assembling than spending endless hours in the kitchen chopping ingredients. The only thing left to chop is the bell peppers, and if you search hard enough, you might even find those pre-chopped! 
Customize to Your Liking
One of the remarkable things about this recipe, and salads in general, is that you have the freedom to add more or less of your favorite ingredients. Feel free to include additional vegetables that your family adores, creating a customized dish that suits your tastes. I must say that this dish is delicious as written, but I've been known to throw in some cucumbers and snap peas from the fridge when I'm feeling adventurous, or I want to use up extras I have.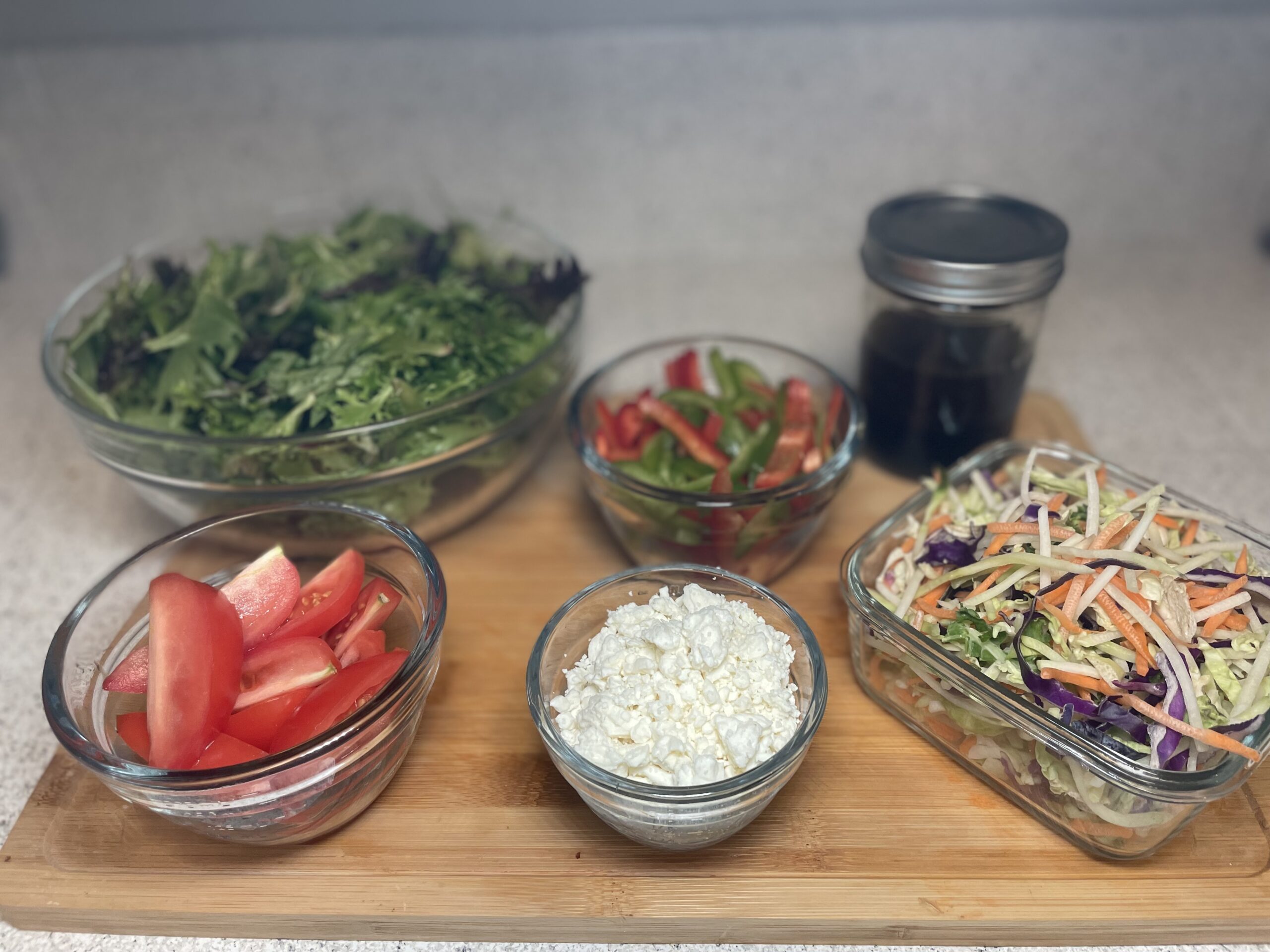 **Ingredients**
– 1 Bag Mixed Baby Greens 
– 2 cups Pre-Shredded Cabbage Slaw Mix 
– Green and Red Bell Peppers (sliced) 
– Feta Cheese (crumbled) 
– Optional: Roma Tomatoes 
[Link to Rosemary Balsamic Vinaigrette Recipe] 
**Instructions**
In a spacious salad bowl, combine the mixed greens, cabbage mix, crumbled feta, and sliced green and red bell peppers.

Gently toss everything together. Add the Balsamic Vinaigrette and continue tossing until the salad is evenly coated.

Serve and enjoy!
**Elevate the Presentation**
Alternatively, you can make this salad visually stunning for a buffet presentation, just as we used to do at Popolo Rotisserie Café. This method ensures that the salad remains fresh and crisp for an extended period during events. 
Layer the ingredients in the following order:
   – Mixed Baby Greens 
   – Pre-Shredded Cabbage Slaw mix 
   – Bell Peppers 
   – Feta Cheese 
Artistically arrange Roma tomato slices along the platter's rim in a single row.

Serve the salad with the balsamic vinaigrette on the side for everyone to drizzle over their individual salads.

When serving, be sure to use tongs to grab a potions from the bottom of the platter to ensure everyone gets a taste of everything.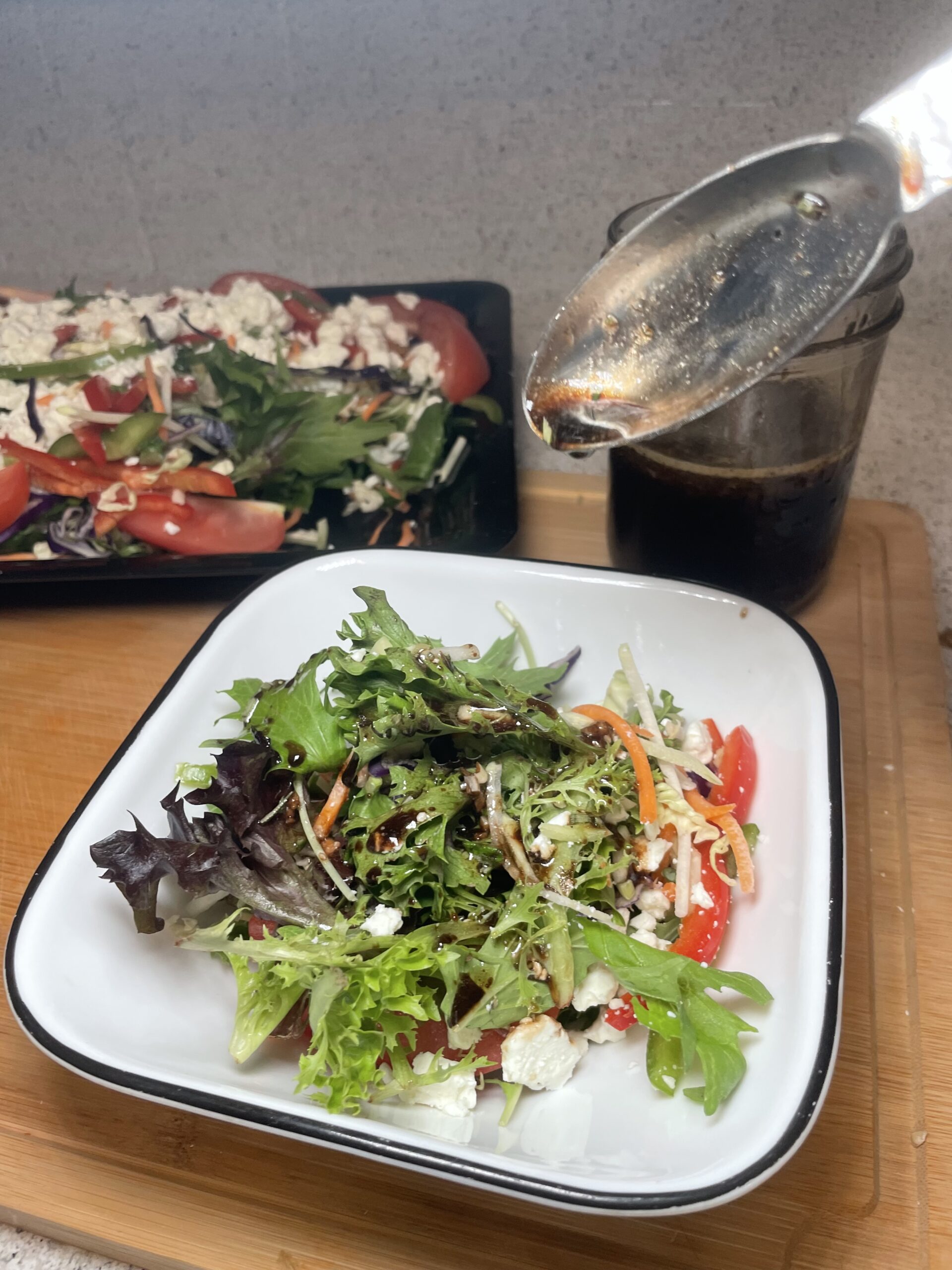 We've received overwhelming positivity and love from all you Popolo Lovers as we continue to share these classic Popolo recipes. Sharing my mom Kathleen's favorite recipe, I hope brings you a little closer to our family-owned and operated business. I intend to keep this "Sharing Popolo Recipes" blog series going for a long time, as my dad believes in sharing everything about food. If someone asks him about a cooking secret, he'll always share, which is admirable because he simply loves food and helping people. So, I want to hear from you. What's your favorite Popolo dish? Once I'm done sharing our team's favorites, I'll make sure to share your favorites from our customers as well. 
*This recipe was adapted for home cooking from Popolo's Original Recipe  

Like reading these blogs? Follow us on Facebook and Instagram to be notified whenever a new blog is posted.
If you love our Popolo Recipe's and want to read more, please Click here to find out how we make our delicious Seven Layer Bars. We love your feed back so please feel free to leave us a comment on it.
Written By:
Marissa Dominguez
Popolo Blogs and Social Media Coordinator